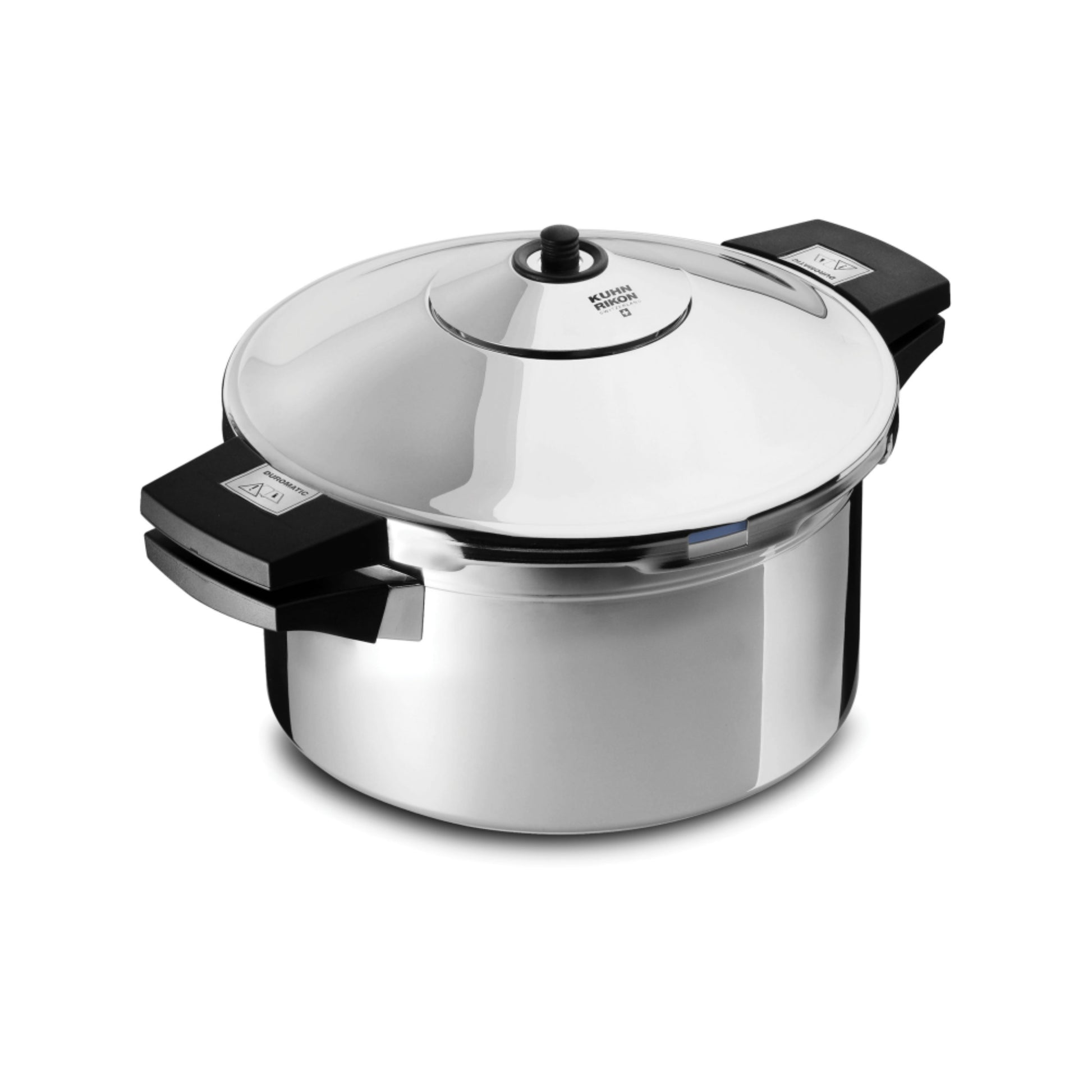 瑞士【Kuhn Rikon】瑞康家庭式壓力高壓鍋 11"/8-qt
銷售價格
$ 350.00
正常價格
$ 409.00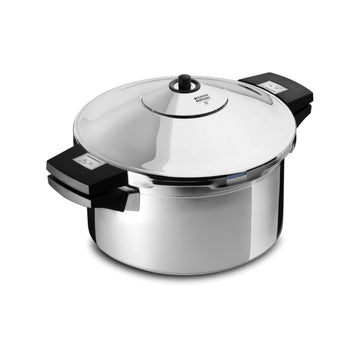 瑞士【Kuhn Rikon】瑞康家庭式壓力高壓鍋 11"/8-qt
銷售價格
$ 350.00
正常價格
$ 409.00
產品描述
運費及退貨
加州居民警示 CA Prop 65 Warning
產品名稱:KUHN RIKON / 瑞士瑞康 30331
品牌: KUHN RIKON / 瑞士力康
型號: 30331
設計使用年限: 10年
直徑: 11"
材質: 316不锈钢
適用對象: 燃氣電磁灶通用
產地: 瑞士
深度: 8-qt
Description
Dubbed 'the pressure cooker for professionals' the Swiss made DUROMATIC® Family Style pressure cookers have large capacities, from 8.4 quarts to 12.6 quarts, and are extremely robust. Our Family Style pressure cookers are ideal for professional chefs and enthusiastic home cooks who have to cater for large numbers. The DUROMATIC® Family Style pressure cookers include all the key features found in all DUROMATIC® pressure cookers.
SAFE – The integrated locking system (prevents opening under pressure) and the four safety steam release systems make the DUROMATIC® an extremely safe pressure cooker.
FAST – Cooking with the DUROMATIC® takes on average, just one-third of the time of conventional cooking.
HEALTHY – the DUROMATIC® will cook high-fiber, low-fat foods in record time AND preserve essential vitamins and nutrients.
ECONOMICAL – The DUROMATIC® pressure cooker is so much quicker, it will save you time and use up to 70% less energy.
QUALITY – DUROMATIC® Pressure Cookers are made of 18/10 stainless steel with a solid aluminum Superthermic® sandwich base for use on all heat sources, including induction stovetops.
Side grips – easier to store and can be easier to lift as the weight is evenly distributed.
Capacity marks on the inside: one-half and two-thirds fill levels.
Easy positioning triangles allow you to close the lid with minimum fuss.
Includes a trivet, Quick Cuisine cookbook and instruction manual.
CLICK HERE to find out how to choose the right pressure cooker for you.
Still have questions about our pressure cookers? See our FAQs on Pressure Cookers or contact us, we're here to help.
Swiss Made - Produced in Switzerland
Environmental: up to 70% energy saving
Fast: up to 70% reduction in cooking time
Healthy: retains vitamins and minerals
High-quality 18/10 stainless steel
Suitable for all hobs (Induction / Gas / Ceran / Cast / Electric / Halogen)
Superthermic® Sandwich base convinces through a fast and smooth heat transmission
Use and Care
For normal soiling use ordinary detergent.
For intensive soiling, scale and/or discoloration use a chromium steel cleaner - e.g. SWISS CLEANER.
The pot's surface can be damaged with abrasive cleaners and dishwashers.
The cookware is basically dishwashersafe but washing by hand affords better protection.
If washed regularly in the dishwasher, synthetic fittings may lose their shine and aluminium may oxidise or corrode.
Never remove food stuck to the pan with sharp objects such as knives, steel wool or scourers (scratches).
Limescale can also be easily removed with vinegar or lemon juice.
Specification
More Information

| | |
| --- | --- |
| SKU | 30331 |
| Weight | 10.5 lbs. |
| Panheight | 5.51 inch |
| Item Width | 12.4 inch |
| Item Height | 9.1 inch |
| Item Length | 15.9 inch |
運費是根據重量計算的。只需將產品添加到您的購物車並使用運費計算器查看運費。我們希望您對您的購買感到 100% 滿意。商品可在交貨後 7 天內退貨或換貨。
For CA residency, warning Consuming this product can expose you to chemicals including, Arsenic (Inorganic), Bisphenol A (BPA), DEHP, Lead, Mercury and Cadmium which are are known to the State of California to cause cancer and Arsenic (Inorganic), Bisphenol A (BPA), DEHP, Lead, Mercury and Cadmium, which are known to the State of California to cause birth defects or other reproductive harm. For more information go to www.P65Warnings.ca.gov/food